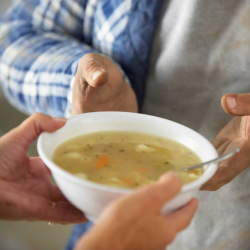 Upper Pinellas District - Clearwater
Located at 1345 Park Street, Clearwater, Florida.
Meals are served 9:30 - 11:00am, 365 days a year. These are full dinners, including deserts.
Volunteers are always needed. Volunteers must be 16 years of age and must arrive at 7:30 am and finish at 11:00.
For more information call 727 441 3950.
South Pinellas District - St Petersburg
Located at 401 15th Street North, St Petersburg, Florida, the Food Center,
also known as the Soup Kitchen, prepares and serves hundreds of clients three nutritious, satisfying, quality meals 365 days a year.
For more information visit SVdP South Pinellas District Website
Click SVdP Links or see the Navigation Bar for Contact Information in other districts.