"Our Inspiration is Christ's Message...
"What ever you do for the least of My brethern you do for Me..."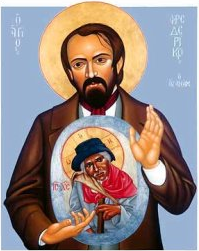 ...Continued from
The Society of St Vincent de Paul, Central Council of St Petersburg Diocese, is part of this worldwide organization through prayer and personal involvement in charitable work.
The Society's mission is accomplished through parish and community-based groups called Conferences and programs called Special Works. The Society's work includes any actions that promote the dignity of the person, alleviate suffering and distress, while correcting the conditions that cause them.
Our Core Values
The Society of St Vincent de Paul adheres to a group of core values that are central to its creed and ministry:
The dignity of the human person
Identification of Jesus with the poor
The preferential option of the poor
Growth in the intimacy with Jesus is a life-long process
Poverty of spirit is the primary beatitude
Concern with charity and justice
Personal and communal prayer
The virtues of humility, both personal and corporate
The virtue of charity, both within and outside of the Society
Divine Providence
Friendship
Solidarity
Community